Stow Products
1-Concrete Mixers
Available in 4, 6, and 9 cubic foot capacities, with your choice of power sources.
Stow's Concrete Mixers feature a new, redesigned frame and improved engine cowling for better ventilation.
A wide choice of power sources lets you blend your personal preferences with an industry workhorse.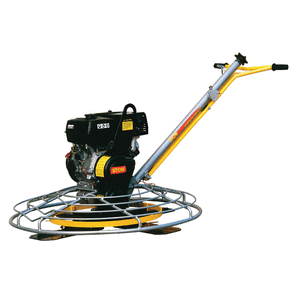 2-Stow Trowels provide the feel and features you need for fast, smooth finishing!
When it comes to concrete finishing, Stow trowels consistently outperform other brands that cost a great deal more! Each trowel is professionally crafted to assure you receive the highest quality product.
Trowels are available with either 36-inch or 46-inch diameter guard rings to meet your needs. A wide range of horsepower options provides dependability, easy starting and fast rotor speeds.
Stow trowels will save you time and money with features designed to minimize downtime and maintenance while delivering optimum performance.
The Stow Gearbox and Spider Assembly
- Cast aluminum gearbox features cooling fins, large tapered bearings and high oil capacity to minimize heat and ensure cool operating temperature.
- One-piece, hardened worm gear and bronzecomposite drive gear provide unmatched durability and performance.
- Spider hub is composed of high-quality class-35 cast iron machined to exact tolerances.
- Hardened spring steel wear plates eliminate wear on the thrust collar and greatly reduce maintenance costs.
- Bronze bushings eliminate wear on the thrust collar and spider hub. Replacement bushings are economically priced to restore performance at a low cost.
The Stow Handle
-Our standard handle features a star-wheel for precise adjustment. A favorite of contractors that prefer to "dialin" the blade pitch angle.
-The optional Quick-Adjust handle provides smooth and easy pitch control with a tensioned lever mechanism. -Standard on all handles is a fingertip throttle control and a durable centrifugal safety switch which stops the trowel should the operator lose control of the handle.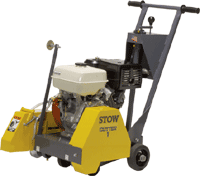 3-Stow Slab Saws
Compact, rugged and easy to handle, the Cutter 1 is the best choice for small to medium cutting jobs. This economical saw can easily accomplish a variety of cutting applications, and serves as the perfect model for rental applications. Cutter 1 models are offered with either a 11 HP gasoline engine or a 5 HP electric motor. *The gas version comes equipped with an 18" Blade Guard that easily operates 14" to 18" diamond blades. The electric model comes standard with a 16" Blade Guard. This hardy saw is equipped with a retractable cutting guide, locking ACME thread raise/ lower system, industrial blade shaft assembly, and reinforced box steel frame.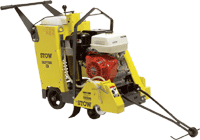 An exceptional performing saw for its size, the Cutter 3 is built to cover a wide range of cutting applications. This saw comes with a standard 20" Blade Guard to permit a 7˝" depth of cut. Power options are either a 11 HP Manual Start, or 18.1 HP V-Twin electric start Honda gasoline engine. *The strong box type frame maintains its integrity providing smooth travel, superior diamond blade life and cutting performance. Standard features include: an adjustable height handle bar, lifting bail, removable hinged front blade guard, rugged front pointer, industrial blade shaft assembly, and 5 gallon built in water tank for dust control while cutting dry. On the Self-Propelled models, a hydrostatic transmission controls forward/reverse propulsion; plus, a freewheel handle disengages the drive system for easy site travel.