Weka Core Motor
Drill Rigs and Accessories for drilling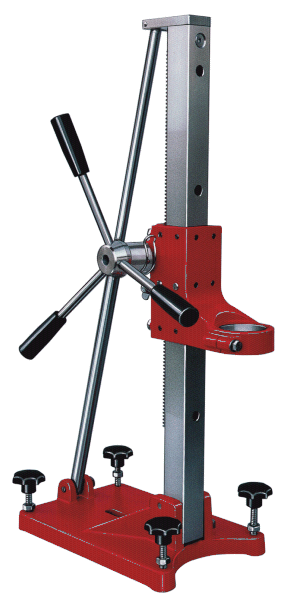 Diamond Drill Rig KS 13
Technical Data:
-Length mm 730
-Feed way mm 470
-Drill Bit length max. mm 500
-Drill Bit Diameter max. mm 150
-Inclination degree 80
-Mounting Neck Diameter mm 60
-Weight kg 9,4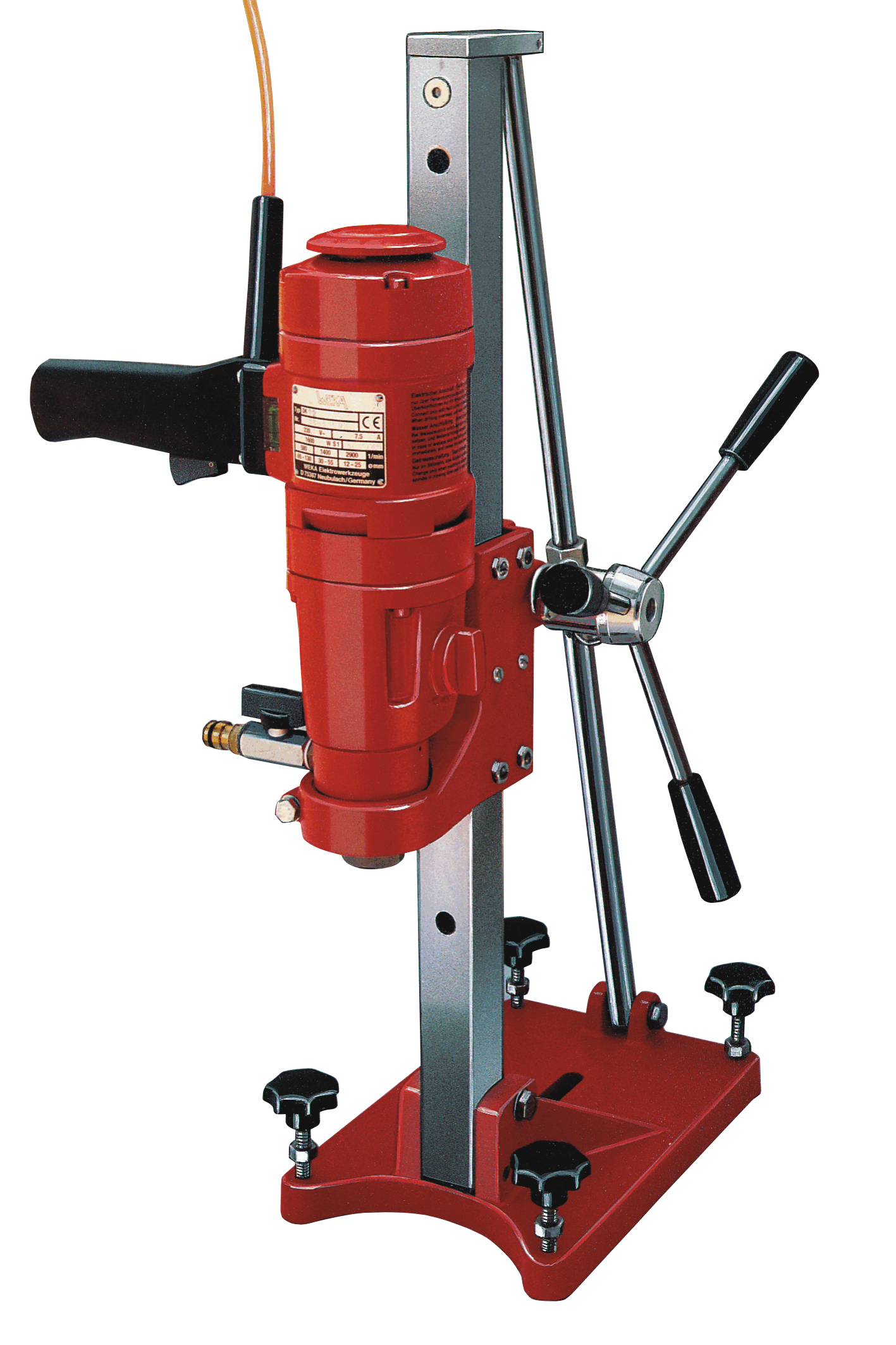 At first sight a drill rig like any other.
However, the new diamond core drill rig KS 13 has certain features which distinguish it from standard rigs.
Here are some of the special features:
Guides and bearings - Slip guides, slideways and bearings are made of a new compound material, i.e. extremely abrasion resistant, low in maintenance and extremely smooth gearing.
Thus, the slip guides can be prestressed easily. The feed carriage now slides absolutely free from backlash, yet running free on the drilling column.
For the drill bit this means: less pipe friction, less vibration especially at the opening, but much higher endurance.
Operating - The KS 13 drill feed is operated by an ergonomically designed hand wheel which simply be placed on to the feed pinion either on the left- or right-hand side.
The rig podestal can be fixed with dowel screws or vakuum. Only Vakuum fittings and a gasket are required for the vakuum fixture. The drill column can, of course, be adjusted to an angle of more than 80.
Corrosion Protection - All essential parts are rustproof. Drill column, struts, levelling screws, feed carriage levers and feed pinion are made of stainless steel. Feed carriage casing and pedestal are made of corro-sion resistant aluminium alloy.
The KS 13 is recommended for WEKA diamond core drilling machines Type DK 12, DK 13 and DK 14. The drilling machine is fixed into the rig at the collar. The spread diameter is 60 mm
Accessories for drilling
1-Centre Spike AS 13
Effortless and exact start of the drilling
For Diamond - Core Drill DK 13
Type Length of bits
AS 13.200 190 - 250 mm
AS 13.300 230 - 350 mm
AS 13.400 360 - 480 mm
Application:
-Insert centre spike through the drill bit into< the spindle of DK 13.
-Put centre spike on the material surface (Concrete, bricks, masonry).
-Press against the machine and start the motor.
-Drill approximately 0,5 cm deep, then remove centre spike again.
2-Diamond Core Drill DK 11