Applied Measurment
1-Load Cells

1-Low Profile & Low Range Pancake LOAD CELL
-Capacities 200N to 2kN
-Stainless Steel Construction
-Low Profile Design
-Low Deflection
-High Natural Frequency
-Excellent Rejection of Extraneous Forces
-Options Available
Other Ranges Available on request Equivalents to other manufacturers' available Full range of mounting options available, including:-
Aluminium Version
Integral Cable Version
Different Centre Thread Sizes (consult factory)
Fatigue Rated Version
Double Bridge Version
DESCRIPTION:
-The DSCRC series are low profile pancake type load cells suitable for both Weighing and Force Measurement applications.
-Constructed from Stainless Steel, offering excellent corrosion resistance and improved zero force pass through performance over conventional steel products..
-The load cell's design provides excellent resistance to extraneous forces, such as bending, side and torsional forces.
-The load cell is used widely in material and fatigue testing applications, where a low physical height is required and forces are applied axially. The mounting bolts for all capacities are counterbored to prevent obstruction from the bolt heads. High frequency response is also a benefit with this load cell for dynamic force measurement applications, which is also complimented with excellent fatigue resistance.
As with all the other Applied Measurements sensors, they can be supplied complete with monitoring/control electronics and calibrated as a system.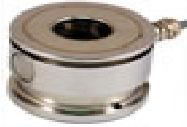 2-Stainless Steel High Capacity Compression LOAD CELL
Capacities 5,000 to 50,000kg
Sealed to IP68 Robust Stainless Steel
Construction Low Profile/High Accuracy
Sense wire facility OIML R60 approved, to 6000 divisions
Hazardous area approved to EEx ia IIC T6
Full range of mounting options available, including
-Vessel/Silo Mounting Assembly
-Weighbridge Mounting Assembly
-Load Buttons
-Special Mounting Assemblies (on request)
500VAC Certification
DESCRIPTION
The CTUS is a low profile bending/torsion ring load cell designed for high capacity weighing systems, such as silos and weighbridges. It is also ideally suited for force measurement applications where high accuracy is required and the force to be measured is high and in a confined space, such as in press calibration. The low profile of the CTUS and it's low cost compared to competitive load cells of similar capacities has made it the first choice for many Process Engineers.
The load cell can be supplied with various mounting options, and can be combined with any of our Instrumentation range to complete any system requirements.
Sense wires fitted to the CTUS to offer even greater accuracy when used with electronics with sensing supplies, by compensating for changes in lead resistance due to temperature change and/or cable extension.
3-Strain Gauge Based Bolt-on Strain Sensing (Tension) LOAD CELL
-Cost Effective Solution for High Capacity Vessel/Silo Weighing Applications
-Sealed to IP65
-Robust Construction
-Simple Installation
-All Mounting Accessories Supplied
DESCRIPTION:
The BOSS series of Bolt-On Strain Sensors designed to be attached directly to steel structures, are capable of detecting tensile, compressive and bending stresses and converting them to a useable electrical signal.
Utilising the latest strain gauge technology, each sensor is manufactured from specifically selected high grade alloy steel with thermal coefficients of expansion matched to structural steel. Each unit is temperature cycled to ensure that the effects of temperature variation are minimised. To ensure complete protection from all but the harshest of environments each sensor is fully encapsulated with a high strength waterproof compound.
Typical weighing applications include silo, hoppers, storage vessels, bins and tanks and overload protection systems on cranes, winches, lifts and presses.
For installation, each unit is supplied with a template to which the two mounting blocks are attached using high tensile cap head bolts. The mounting blocks are welded in position using the template which is then removed and the Bolt-On sensor attached in its place.