Tramex
Non Destructive Moisture Meters
Our line of pin less moisture meters are multi-purpose meters, which are ideal for the Flooring Professional, Restoration Contractor, IAQ and Mold Remediation Specialist, Woodworker, Home Inspection and General Contractor.
The Non-Destructive Moisture Meters offers a fast, effective way to identify moisture problems and determine if further action must be taken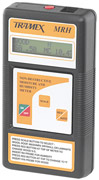 Tramex MRH Non Destructive Moisture Meter
Tramex MRH Non Destructive Moisture Meter allows the utmost flexibility in moisture and humidity measuring needs!
Features & Applications:
This advanced, digital non destructive meter is ideal for measuring moisture content in wood, drywall, masonry, roofing, siding and other construction materials. Complete with deep signal penetration, up to 1.25" (30mm), the MRH Non Destructive Moisture Meter can detect elevated moisture through most covering materials such as Porcelain or Ceramic Tile, Drywall, Carpet, Vinyl Flooring, VCT tile, Floor Laminates, Wall Coverings, Roofing Membranes and more, without having to damage or puncture the material being tested.
Features:
-External Rubber electrodes in direct contact with material being tested for best sensitivity, repeatability and greater depth of signal penetration
-Wide range of readings for wood of 3 to 40% on wood scale and 0 to 99 on comparative scale for other materials
-Easy to read display giving meaningful readings
-Hold function enables user to "freeze" the reading, useful when taking readings where the meter face may not be visible
-High Moisture Audio Warning Tone that can be switched on or off
-Automatically switches "Off" when not in use
-Non-destructive moisture detection and measurement on a wide range of construction materials
-Programmable Specific Gravity from 0.3 to 0.8 to suit most wood species, eliminating the need to lookup adjustment tables
-Optimized sensitivity scales for: Wood, Roofing, Masonry and Drywall
-Automatic correction for ambient temperature
Applications:
-Wood
-Plaster
-Drywall block
-Ceramic tile
-Brick
-Roofing
-Most materials found in the building envelope