Tramex
Wood Moisture Meters
Woodworkers and craftsman know that excessive moisture can cause major problems in their finished product. The Moisture Meter Store offers the very best Wood Moisture Meters for any budget to locate moisture before it affects your work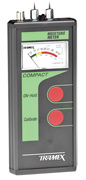 Tramex Compact Wood Moisture Meter
Tramex Wood Moisture Meter offers moisture measurement with advanced measurement technology
Features & Applications:
The Compact Wood Moisture Meter is a handheld instrument designed to instantly and accurately measure moisture content in wood, wood by-products and building materials such as roofing, insulation, plaster and brick. Using built-in electronic probes, or optional interchangeable electrodes, it displays moisture content on a clearly calibrated analog dial. This pocket-size, and versatile instrument offers moisture measurement at a low cost.
A choice of interchangeable electrodes and pins makes the meter flexible enough for virtually any application. The selection of electrodes includes: deep hammer type, shallow penetration and deep wall type.
Features:
-Immediate accurate readings on a clear easy-to-read meter.
-Wide moisture content range: 7 to 42% in wood
-Built-in electrodes
-Built-in socket for use with a choice of external electrodes
-Timed On/Off Switch
-Reading Hold facility
-Temperature stable circuit
-Pocket-sized, easy-to-use
-Heavy-duty yet light-weight aluminum construction
-Built-in battery check and calibration checks
-9v battery included
Applications:
-Raw wood
-Wood by-products
-Roofing
-Insulation
-Plaster
-Brick