Proceq
TORRENT Permeability Tester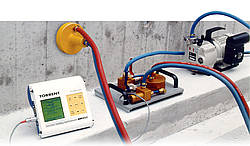 TORRENT
The Torrent permeability tester permits a rapid and non-destructive measurement of the quality of the cover concrete with respect to its durability.
Concrete permeability, with respect to air and water, is an excellent indicator of the potential durability and resistance of a particular concrete against the ingress of aggressive media in the gaseous or liquid state.
Features:
-The data is automatically collected by the display unit and the permeability coefficient kT as well as the penetration depth L of the vacuum are automatically calculated
-Measurement takes 2 - 12 minutes depending on permeability of the concrete
-The quality class of the concrete cover of dry concrete can be read from a table using the kT value
-In the case of moist concrete, kT is combined with electrical concrete resistance ? (rho) and the quality class is determined from a nomogram
-Optional resistance Wenner-probe to correct the influence of concrete moisture is available.
Application:
-To determine the quality of the cover concrete
-To assess the durability of a concrete structure