Proceq
DYNAZ...Pull-off and Extraction Tester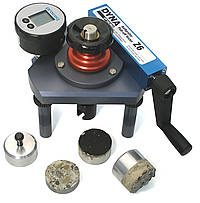 DYNA
The Dyna pull-off tester determines the adhesive strength on different surfaces in a user-friendly way. The main applications are to test the adhesive strength of coatings on concrete structures and the tensile strength of concrete.
Testing can be carried out on any point of a structure without having to install test devices prior to the casting of the concrete.
The Dyna is indispensable for the diagnosis of building structure damages as well as for checking completed renovation work.
Features:
-Integrated digital manometer (with metric and imperial units)
-Mobile for use in any location
-Lightweight and precise
-Independent of mains supply due to easy running crank drive
-Constant jerk-free load increase
-An optional electrical drive unit is available
Application:
-Measuring the adhesive strength of applied coatings e.g. plastic or concrete coatings, mortars, plasters, bituminous coats and coatings on metal
-Determining the surface strength of concrete and other materials
-Ideal for the evaluation of tensile strength in concrete renovation
Product Variations:
-Dyna Z series (for adhesion and tensile strength testing) with integrated digital manometer
-Dyna ZE series pull-off testers (for adhesion and tensile strength testing) with pressure sensor and electronic display device DYNAMETER which allows the easy data-transfer to a PC or printer for further analysis
-Optional electric drive EDm
-Dyna Estrich is an adhesive strength tester specially designed to measure the adhesive strength of floor coatings by an absolutely non-destructive testing method