Proceq
ProfoMeter Rebar Locator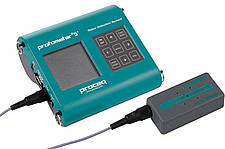 PROFOMETER 5+
The compact, lightweight Profometer 5+ rebar detection system brings the power of non-destructive pulse-induction technology to the detection and analysis of rebar systems in concrete.
For a user-friendly, compact and accurate way to detect reinforcement bars and mesh, to measure their cover depth and to determine the bar diameter.
Features:
-Detection of rebar and other metal building elements and their orientation
-Measurement of concrete cover depth and rebar diameter
-Correction functions for the influence of neighbouring bars
-Compact, user-friendly indicating device with display backlight
-Optical as well as acoustic locating aids
-Metric or imperial units setting
-Storage of 40'000 individual cover values and statistical analysis (160'000 with model Scanlog).
-Data transfer function to PC and evaluation using the ProVista Analysis Software, included with the instrument.
Applications:
-Acceptance inspection of cover after formwork is removed
-Locate rebars to avoid them when drilling holes
-Provides essential data (location, cover, diameter of rebars) for strength calculations of reinforced concrete structures
-Measuring concrete cover depth
-Quality assurance in mass production of prefabricated concrete elements
-Model SCANLOG is especially suited for large areas and when comprehensive reporting is required
Product Variations:
-Profometer 5+ S (as described above)
-Profometer 5+ SCANLOG
The SCANLOG version (deluxe instrument) has all the functions of the Modell S. In addition with the ScanCar
probe carriage system it features two additional functions for more extensive site evaluations:
- "CyberScan" function for a 2-dimensional display or rebar layout
- "Measuring with Grid" function for a 2-dimensional grey-scale display and mapping of concrete cover values
Technical Data:
-Memory non-volatile memory for 40'000 measured values (Model SCANLOG 160'000) and 60 objects respectively
-Display LCD with backlight, 128 x 128 pixels
-Interface RS 232 or with adapter for USB Port on PC
-Software ProVista for downloading data and evaluation on PC
-Batteries six 1.5 V for 45 h operation; 30 h with backlight on
Measuring Range:
-Operating temperature -0 °C to +60 °C
-Storage temperature -10 °C to +60 °C
-Cover depth measurements small range up to 100 mm (3.94 in.)
-large range up to 185 mm (7.28 in.)
-Diameter measurement up to a cover of 70 mm (2.76 in.)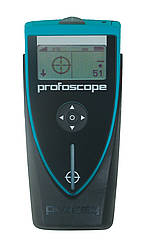 PROFOSCOPE
The Profoscope is a versatile, fully-integrated rebar detector and covermeter. It is a compact, light device allowing the user to operate it with one-hand.
Profoscope has a unique real-time rebar visualization allowing the user to actually "SEE" the location of the rebar beneath the concrete surface to a maximum depth of 180 mm. This is coupled with rebar-proximity indicators and optical and acoustical locating aids. These unique features combine to make the task of locating rebars a simple and efficient process.
Rebar diameter can also be estimated within the specified testing range.
Profoscope is very simple to use; the intuitive user interface means faster rebar identification.
Features:
-Real-time visualization of the rebar location beneath the instrument
-Visual indication of rebars in close proximity
-Ability to detect rebars AND the mid-point between rebars as well as the orientation of the rebars
-Optical and acoustical indication of rebar location and minimum cover alert
-Neighboring bar correction
-Regional settings (metric, imperial)
-Cordless and single handed operation
-Switchable display backlight for dark environments
-Icon-based language independent menus
-Start-up test kit allows user to familiarize him/herself with all functions in a comfortable environment, wasting no time on site
Applications:
-Rebar detection – (e.g. general contractors, civil contractors, drilling specialists, electrical contractors)
-Measurement of concrete cover - (e.g. general contractors, civil contractors, civil engineers)
-Measurement of rebar diameter – (e.g. educational institutes, building inspectors, civil contractors)
-Checking for minimum cover – (e.g. building inspectors, civil contractors)
-Map out the rebar grid and cover for corrosion studies (with Canin+) – (e.g. building inspectors)
-Rebar grid examination for planned load changes on the structure – (e.g. civil engineers, civil contractors)